First Annual Kids Fun Run and 5K TotTrot 
We had a blast at our Kids Fun Run and 5K TotTrot to raise money for our low income student parents. The children raced to the finish line to earn a medal and a balloon. Our families, friends and community members ran/walked a 5k around the University of Minnesota mall area.
Thank you to everyone who signed up, volunteered, donated, and helped spread the word.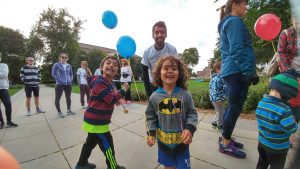 Fall Party at the center
The children had fun doing a costume parade, trick or treating at the office, arts and crafts, and making a special "spider" snack.